~ webiste in progress ~
~ this site was inspired by the gunns20.org site ~
Robert Raymond Cripps sues artists for defamation:
Redleg Museum Services (ACN 105 986 829) sues
Demetrios Vakras (artist)
Lee-Anne Raymond (artist)
Supreme Court of Victoria
SCI 01484/2011
"Redleg" (Robert Raymond Cripps trading as "Redleg Museum Services") is suing us after we wrote of our experience with him when we exhibited our works in his short-lived-gallery venture "Guildford Lane Gallery" in 2009.
*  He disagreed with part of the exhibition's content which he called "racist"
*  Using racism as his pretext he barred us entry to our exhibition
*  We advertised his gallery and our exhibition (eg 1/2 page ad in Art Almanac). He posted disclaimers dis-endorsing our exhibition.
*  We each wrote about our experience on our respective websites. He sued us each for defamation
*  On the pretext of defamatory content his actions caused us to be disconnected from the internet (via Telstra).
We are accused of "defamation" because the documented evidence of Cripps' actions, such as his own emails to us, are claimed to be evidence of our defamation of him.
His SOCs demand that we apologise for writing about his failure to provide what he was contractually obligated to provide. By means of the Defamation Act of 2005 it appears that he is attempting to:
a/ abrogate his liability for his failure to provide what he had contractually agreed to provide;
b/ keep from becoming known that he deliberately withheld what he had contractually agreed to provide.
---
Contact : Lee-Anne Raymond, or Demetrios Vakras
Artist sites : leeanneart.com , vakras.com
Summary of exhibition / publication launch HumanistTranshumanist.com
Glossary: "SOC" is a "Statement Of Claim", "GLG" is "Guildford Lane Gallery", "Redleg" is Robert Cripps trading as "Redleg Museum Services".
---
About the person suing us, Robert Cripps :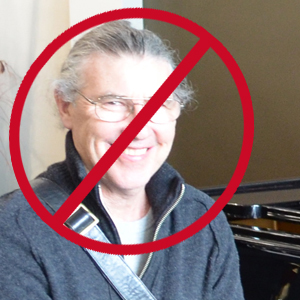 Robert Cripps, pictured left, was the owner of the failed Guildford Lane Gallery. His other interests are object / art transportation ("Redleg"). Cripps' latest venture is his dog's jazz music venue.
His application to run his dog's venue " Ruby's Music Room ", has been beset by legal challenges (objections to council, http://melbourne-leader.whereilive.com.au/news/story/jazz-joust-in-cbd-hits-sour-note, as well as VCAT). Beware, Ruby bites! She tried to bite us, and this has been reported by others (below left). According to Cripps' site, his dog: "Ruby is a lover of Jazz, Classical, Opera & World Music", though the same claim is made regarding Cripps himself: "Cripps [is] an enthusiast of jazz, classical, opera and world music"
(http://www.theshout.com.au/2013/01/07/article/Jazz-heavyweight-loses-fight-against-Melbourne-bar/ZLUVRIEIAD.html).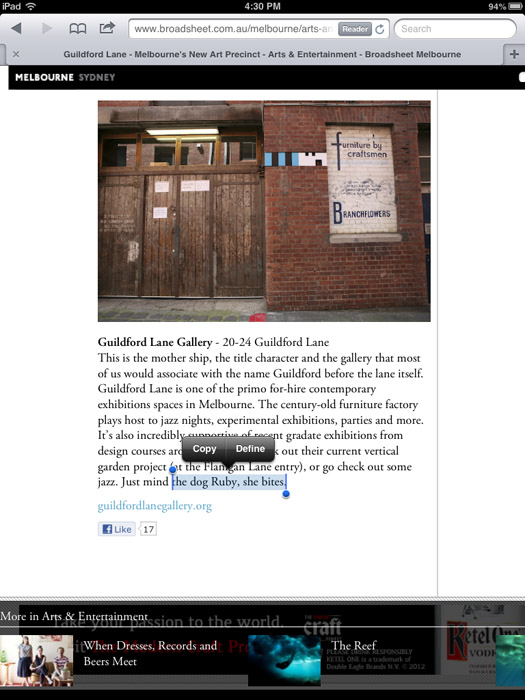 ---
Petition to fix Australian law
This site (Redleg V Artists) is hosted on a USA server.
The USA has legislated against Libel laws of countries such as Australia. Australian and UK libel law is defined as Libel Terrorism by the USA.

Australian defamation law is based on UK law.
Australia only extricated itself from the UK in 1986 (the Australia Act 1986, http://en.wikipedia.org/wiki/Australia_Act_1986 ). Australia's libel laws are inconsistent with the right to freedom of speech ("freedom of speech" does NOT equal any right to lie).

We are petitioning the Australian government to amend the Defamation Act of 2005 to end Australian Libel Terrorism and to make Australian law consistent with its international obligations.
Support our petition here:http://www.change.org/en-AU/petitions/the-hon-mark-dreyfus-qc-mp-amend-the-australian-defamation-act-2005